Honister Slate Mine £12k helps Arctic Char in Cumbria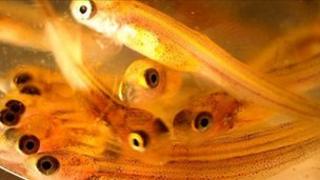 A £12,000 donation made by the late owner of Honister Slate Mine has helped save rare fish in Cumbria.
Mark Weir, 45, who ran the mine in Borrowdale, died when his Gazelle aircraft crashed on 8 March 2011.
Mr Weir was involved in the Wild Ennerdale project before his death and now the mine has made a donation to the project to help build a new bridge.
The old bridge, in the Ennerdale valley, was preventing the rare Arctic Char fish from spawning.
Gareth Browning from the Forestry Commission, said: "The £12,000 from Honister was an amazing amount and made a huge difference to the project."
The project raised a total of £30,000 to build the new bridge, after the old bridge was causing problems for the Arctic Char.
The fish were unable to access their spawning ground because the bridge was causing a block in the river.
The money was raised by donating 25p of the £1 visitor fee for mine tours at Honister towards the project.
Funding also came from Natural England, The Environment Agency and The Forestry Commission.