Family attacked by 20 youths in Carlisle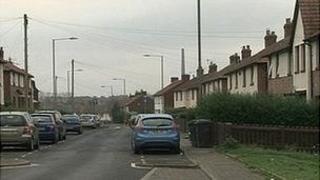 A family of five suffered multiple injuries in an unprovoked attack by a group of about 20 youths in Carlisle.
They were walking home from a firework display through Brookside at about 19:30 GMT on Saturday when they were confronted by the group.
At least one of the youths, armed with a baseball bat, hit a boy, 15, from Whitehaven on the back of the head.
Another victim, a 31-year-old woman also from Whitehaven, suffered a broken hip after being punched and stamped on.
She was taken to Cumberland Infirmary, where she is receiving treatment.
The 15-year-old boy was left with extensive bruising on his head and body.
'Nasty injuries'
The other family members, two males from Carlisle and one man from Whitehaven, were punched and kicked receiving facial injuries and cuts and bruises. The Whitehaven man was also hit in the face with the baseball bat.
He was taken to Cumberland Infirmary but has since been discharged. The other two did not receive hospital treatment.
A handbag and jacket were also stolen during the incident.
Cumbria Police's Det Con Mark Singleton, said: "This was an intimidating and violent attack against a family which has resulted in them sustaining nasty injuries.
"The city was busy on Saturday evening and I'm sure that there will have been people walking by or local residents who will have witnessed the incident or who will have seen the group of young people hanging around Brookside.
"Everyone has the right to walk home safely without the fear of violence so this kind of incident will not be tolerated. We are committed to finding out who was involved and will bring each and every offender to justice."