Keswick School bus crash rescuer Mike Barton wins award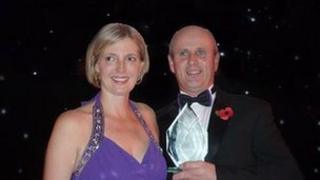 An off-duty firefighter who played a vital role in rescuing school bus crash victims in Cumbria has won a national award.
Mike Barton was on the A66, near Keswick, on 24 May 2010 and arrived on the scene shortly after the crash.
He alerted colleagues then helped rescue the Keswick School pupils.
Mr Barton, of Windermere, said he was "honoured" to be named Firefighter of the Year at the Spirit of Fire Awards 2011, in Canary Wharf.
Keswick School pupils Chloe Walker, 16, and Kieran Goulding, 15, were killed when their bus was hit by a car driven by Patrick Short, 68, who also died.
'Pretty daunting'
Mr Barton, who works at Barrow fire station, kept in touch with fire control at the scene and as the rescue crews arrived, he was able to brief them and start the rescue process immediately.
He said: "I'm really honoured to have won the award but I was just doing what any other firefighter would have done if they'd found themselves in the same situation.
"It was pretty daunting to win the award in front of so many people and being up against other really worthy candidates, but it was an enjoyable experience and something I'll never forget."
Cumbria's Chief Fire Officer Dominic Harrison said: "To have a Cumbrian firefighter winning such a prestigious award and be recognised on a national scale is fantastic and Mike is a very worthy winner.
"His actions in the immediate aftermath of such a terrible and tragic incident were commendable and a testament to the training and skills of all our firefighters.
"I'm sure I speak for everyone else in Cumbria Fire and Rescue Service as well as myself when I say how proud we are of Mike."
The Spirit of Fire Awards honours members of the fire and rescue services and the public, by recognising bravery within the fire community and dedication to The Fire Fighters Charity.