First seaplane flight's centenary marked at Windermere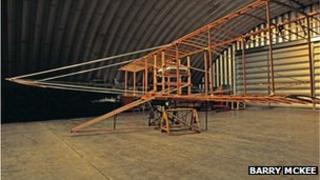 A special display will be taking to the air over Windermere, Cumbria to mark the centenary of the first successful flight of a seaplane in Britain.
The original Waterbird plane, made from wood and wires, made the historic flight from the lake, in 1911, with pilot Herbert Adams at the controls.
One of its descendants, a 1949 Hawker Sea Fury, will be at the centre of the anniversary display, on 25 November.
A Waterbird replica is being built with the hope it can be flown in 2012.
Unlike a conventional aircraft a seaplane takes off and lands on stretches of water.
Aviation's 'golden age'
Among the guests will be several descendants of Edward Wakefield, who patented the first effective British aircraft float.
His great nephew, Sir Humphry Wakefield, said: "This was the golden age for British aviation and we are hoping to capture the magic of those early pioneers.
"Recreating the flight of Britain's first seaplane will be a fitting tribute to the ingenuity of Edward Wakefield one hundred years later."
Gerry Cooper, of Cooper Aerial Surveys Engineering Ltd, is building the replica using the original plan drawn up by aircraft engineer Sir Alliott Verdon-Roe, founder of Manchester aviation firm Avro.
The replica is being built from similar materials to the spruce wood and wires that held the original Waterbird together. It will cost about £160,000.
Organisers are hoping to land the Waterbird replica or another sea plane on Windermere as part of celebrations next year. However, they have not yet been able to get permission to exempt the activity from 10mph speed limit by-laws.
The speed limit was introduced on Windermere in 2005.