Tees Barrage training marks Cumbria floods anniversary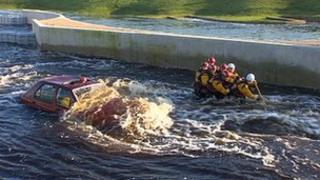 Flood rescue volunteers gathered on Teesside to take part in a training exercise which marked the second anniversary of the Cumbrian floods.
Twenty RNLI crews from across the north of England used facilities at the Tees Barrage white water centre to put lifesaving skills to the test.
Lifeboat volunteers were responsible for the rescue of more than 200 people when floods struck in November 2009.
Crews from stations including Redcar, Workington and Tynemouth took part.
The Tees Barrage exercise involved rescue scenarios such as freeing casualties trapped in submerged vehicles as well as sessions to help teams improve swift water swimming and rope rescues.
Sarah Nimmo-Scott, leader of the RNLI's north flood rescue team, said the weekend exercise was the first of two in November to ensure RNLI volunteers were fully prepared for any future major flood event.
She added: "I know those of us involved in that rescue operation two years ago will be remembering the severity of the situation we faced and the difficulty of some of the rescues we had to undertake.
"It will definitely help focus our minds on why training exercises like this are so important."