Views sought on possible nuclear waste dump for Cumbria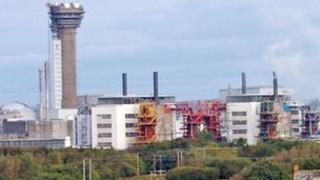 People in West Cumbria are being asked for their views on whether the area should be used to bury nuclear waste.
The government needs a permanent home for much of the radioactive waste currently stored at Sellafield.
Several local authorities in the county have already expressed an interest in hosting an underground repository.
The West Cumbria Managing Radioactive Waste Safely Partnership, which includes many Cumbrian councils, begins the four-month consultation on Monday.
The partnership will review the feedback it receives before deciding whether to make a formal approach to host a site for a repository.
Visitor interests
Alan Smith, chair of the partnership and leader of Allerdale Council, said: "We have now reached a very important part of the process about whether West Cumbria should take part in the search for a deep geological disposal facility for higher-activity radioactive waste.
"We recognise that it will be of interest to a wider range of people and welcome responses from people living elsewhere in Cumbria and beyond, including visitors to the area and those with an interest in the Lake District National Park."
MPs in the area, including Labour's Jamie Reed who represents Copeland, have supported plans for a repository in West Cumbria.
But West Cumbria Friends of the Earth have opposed any waste storage plans for the area.
It is expected to take up to 15 years to conclude tests into the suitability of any proposed repository site.