Pylon routes from new Cumbria nuclear site revealed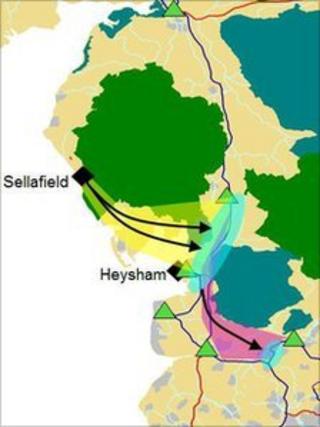 Plans showing six possible routes of pylons and cabling from a new nuclear facility in Cumbria have been revealed.
A new nuclear power station is planned to be built beside Sellafield by 2023.
The project will include a route of pylons or a series of underground cables running from Sellafield to Heysham, or through the Lake District National Park.
The National Grid said it would "minimise" the environmental impact to the area.
Councillors from Copeland Borough Council will see the six draft maps at a meeting on Thursday.
The National Grid say the plans are at an early stage and there will be a full public consultation.
David Mercer, from the National Grid, said: "We're looking at where sub-sea might be appropriate, where under-grounding might be appropriate, as well as where overhead lines may be appropriate.
"We will need to provide a balance between the cost to consumers, because what we spend here will go on your electricity bill... as well as minimising the environmental impact.
"We know we're working on a very sensitive area in Cumbria and we're absolutely committed to listening to local people's views to help inform us in making decisions on what we take forward."
'Special qualities'
The project has six alternative routes, including two overland or two sub-sea routes south from Sellafield and a double-circuit ring with one north from Sellafield and one sub-sea double circuit south from Sellafield.
The routes could impact on local authorities across Cumbria and Lancashire as well as the Lake District National Park Authority.
Andrew Herbert, from the park authority, said: "Obviously we want to find the best solution that protects the interests of the special qualities of the national park and delivers the economic interests of Cumbria and the nation more widely.
"As always with these things, they're not easy paths to follow but we've got to find where the right balance is."
The project is part of a £22bn programme to connect new energy projects across the country.