Pupils' Christmas songs played to Workington shoppers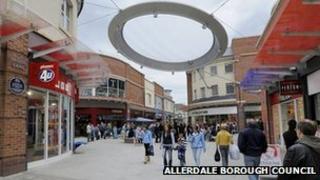 Pupils' Christmas thoughts are being played to shoppers in the run-up to Christmas.
Workington town's outdoor performance space, the Hub, is playing an audio collage of Christmas stories and songs collected from school children.
The recordings were collected by artist Jenn Mattinson from within the local community of Moorclose.
The project is funded by Allerdale Borough Council and will run until 26 December.
To produce the festive piece of work, artist Jenn Mattinson spent time at Moorclose Library and St Gregory's Catholic Primary School.
Miss Mattinson, 27, said: "I'm really happy with how the Christmas collage has turned out.
"I wanted to offer people a piece of work that made them feel festive and gave them that feel-good mind-set and I think that's what the Christmas collage does."
The Christmas collage of stories, can be heard daily until the end of Boxing Day at 10:00, 11.30, 14:00, 16:00 GMT.
A full collection of all the stories, lasting around 20 minutes, will be played daily at 12.30 and 18:00.
The Hub is a canopied outdoor performance space with one of the first outdoor 3D-sound systems in the UK.