Wind turbines to power Kirkstone Pass Inn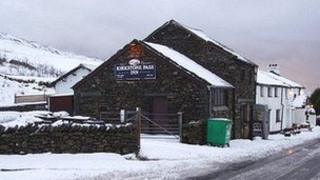 The highest pub in the Lake District has been granted permission to install three wind turbines to provide power.
With no mains electricity, the Kirkstone Pass Inn relies on diesel generators to provide heat and light.
Planners for the Lake District National Park Authority have now agreed that three 54ft (16.45m) structures could be built in a nearby field.
The centuries-old pub stands at 1,481ft (451m) above sea level on an exposed hillside above Ambleside.
In making the decision, planners had to balance protection of the landscape with the need to help out local businesses.
John Jennings, landlord of the inn, said that the £25,000 annual cost of running the generators risked putting him out of business and described it as a matter of survival.
Once up and running, the turbines will provide about 70% of the electricity needed.