No bailout for Cumbria hospitals trust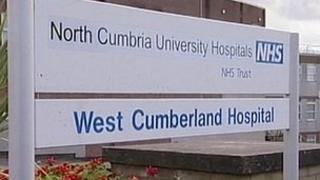 The trust which runs hospitals in north and west Cumbria will not be bailed out, the government has said.
It comes after Neil Goodwin, chief executive of North Cumbria University Hospitals Trust, said its financial position had worsened.
In a letter to Labour Copeland MP Jamie Reed, health minister Simon Burns said the trust had already been provided with extra support this year.
Cumbria MPs said they would continue to push for more support.
The trust needs to make savings of £15m and in a leaked email in November, Mr Goodwin said its financial position had worsened and urgent action was needed.
He said areas to be examined were ward closures, locum consultants no longer being used, and short-term staff contracts ending.
He later branded claims that the financial situation was putting patients' safety at risk as "nonsense".
'Very disappointed'
In the letter, Mr Burns wrote: "You have asked that the trust receive additional financial assistance.
"However, I have been informed that the trust has already been provided with extra contractual support this year, which is clearly not a sustainable solution."
He said the trust's financial position was being closely monitored.
Mr Reed said: "(I am) very disappointed that there is not going to be a bail out. This isn't the end of the story as far as I am concerned. I am still going to try and get one."
Carlisle Conservative MP John Stevenson said the priority should be to put the trust in a good position as it bids to achieve foundation status.
He said: "For some time now I have said I would like to see them to write off the existing debt so that when the new trust does start, they have a better balance sheet than they would otherwise have, and they can start in the best possible state."