Arnside Viaduct walkers could face £1,000 fine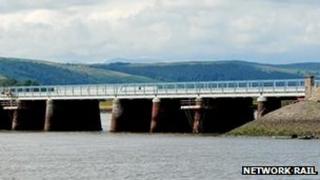 Participants in a unofficial festive walk on the Arnside viaduct in south Cumbria could face a £1,000 fine.
The Christmas and Boxing Day walks along the viaduct, when passenger trains do not run, have been growing in popularity.
Network Rail and British Transport Police officers will be on the viaduct to make sure nobody crosses it.
Constructed in 1856, the 51-span structure carries the Carnforth and Whitehaven line over the River Kent.
Network Rail spokesman Keith Lumley said: "We are reminding people that it is both illegal and unsafe to walk across the viaduct.
"Trespass on the railway is a criminal offence and carries a maximum penalty of a £1,000 fine.
"In spite of the viaduct having been rebuilt this year, it is still unsafe to walk across it.
"Just because Arnside signal box will be closed on Christmas Day and Boxing Day doesn't mean that no trains will cross the viaduct. "
A similar operation was mounted in 2010 to stop anyone from crossing the viaduct.
A spokesman for British Transport Police said: "We are aware of issues at Arnside Viaduct and, this year, will be supporting colleagues from Network Rail in deterring people from attempting to cross the viaduct.
"This follows on from last year's activity in which several people were dissuaded from trespassing on to the railway."
The viaduct re-opened in July 2011 after 16 weeks of engineering works to rebuild the deck of the 155 year old structure.