Children's book features Eden Valley myths and legends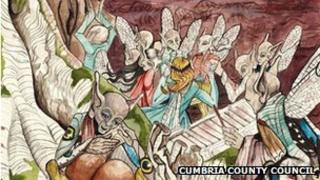 Children in Cumbria are being taught about their county's heritage with a new Lottery-funded book.
The book is the finale of a storytelling project called "Story Giants of Eden", which started in January 2010.
The project involved more than 500 children and young people from the Eden Valley in east Cumbria.
The book, Let the Giants Live, recalls stories, myths and legends from the area.
As part of the project children researched stories and legends with local connections.
A wealth of stories, myths and legends were uncovered including Viking and Arthurian legends, stories about noble families, follies and castles and traditional farming tales about mythical creatures called dobbies and boggles.
Ian Stephens, managing director of Cumbria Tourism, said: ''Without question the Lake District, Cumbria, is an inspirational place that has and continues to focus creative thought, enabling the production of truly inspired works including this wonderful book."
Illustrations in the book were drawn by Jessica Mills. The project is funded by the Heritage Lottery Fund.