Carlisle's Lanes shopping centre 'bucks slump trend'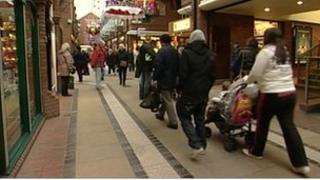 A Cumbria shopping centre seems to be bucking the trend of disappointing retail sales.
In spite of widescale discounting by retailers sales volumes in the UK fell 0.4% in November on the previous month, according to the Office for National Statistics.
The figures brought to an end two months of growth.
The fall in November followed a surprise rise in sales in October, which analysts said was due to the start of deep discounting by retailers.
The ONS on Thursday also revised up its figures for the three months to the end of November. This meant sales rose 0.7% over the quarter, the strongest three-month gain since August 2010.
The mild weather was seen as being at least partly to blame for the fall, with shops full of hats, coats and gloves that people were not buying.
The worry for retailers is that November's figures will be replicated in December.
However, one shopping centre in Cumbria appears to have stolen a march on many of the others.
The Lanes, in Carlisle, said it had seen increasing spend and footfall for a number of weeks, rather than just over last weekend.
Commercial director David Jackson said: "It really kicked off with a vengeance, Christmas shopping-wise, on the day of the strikes.
"We had a 42% increase in footfall that day, and then Thursday, Friday, Saturday of that week was a record for the year in terms of footfall.
"The retailers were rubbing their hands."
About 243,000 shoppers a week are currently passing through the centre, with a high on Saturdays of about 45,000.
So what explains this success story?
One reason could be that Carlisle's shoppers are paying with cash more than with credit cards.
That blip upwards in sales coincided with many people's pay day - suggesting that shoppers had weighed up in advance precisely when they were going to start making Christmas purchases.
Ross Lockhart, manager of Debenhams in The Lanes, has another theory - the biting North West weather.
He said: "We've noticed a real difference with the Christmas mindset since the weather's changed.
"We've had a cold burst kicking in properly in the last 10 days, and I think there's now a real appetite for Christmas shopping in the store."
And according to Natalie Sealey, manager of clothing shop Fat Face, shoppers are not making impulse buys but rather shopping with a well-thought out strategy.
Her shop sells the second highest amount of gift cards out of 199 Fat Face stores around the country - suggestive of a Cumbrian canniness.
She said: "I think our shoppers are a lot cleverer with their money, compared to people down south.
"A gift card is a really great gift because you can give it at Christmas and that person can get what they want, but [in the sale] they're probably going to get twice as much for their money."
So Carlisle's shopping centre appears buoyant. The real test though will come in January with the release of yet another set of statistics: December's retail sales figures.