Windermere Great North Swim places filling up fast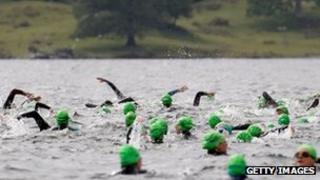 People wanting to take part in the Great North Swim in Cumbria have been warned that places are filling up fast.
The event, thought to be the UK's biggest outdoor mass-participation swimming event, will be held at Windermere in June.
More than 6,000 local people have signed up, meaning that almost two-thirds of the 10,000 places are taken.
Swimmers, who must wear wet suits, have the choice of a 0.5 mile (0.8 km), 1 mile (1.6km) or 2 mile (3.2 km) course.
The three-day event raises money for charities and provides a substantial boost to the local economy.
In 2010 the swim was cancelled after potentially toxic algae was discovered in the water by the Environment Agency.
To avoid a repeat, it was scheduled for earlier in the year in 2011, and in 2012.