South Lakes Wild Animal Park has record visitor numbers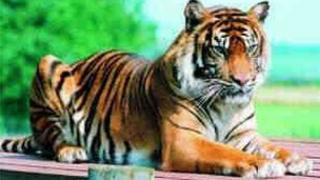 With his Cumbrian zoo attracting record visitor numbers, David Gill is a happy man.
If he gets permission to expand South Lakes Animal Park in Dalton he will be even happier, although the local borough council might not.
Despite the current economy the attraction has announced its busiest year yet, with visitors in 2011 topping 300,000 for the first time - an increase of 31,000 on the previous 12 months.
Mr Gill puts the success down to constant reinvention.
He said: "Over the 18 years we've been here we've been improving the place constantly, changing the attractions, making it more accessible to people and I think people absolutely love it... people love what we do."
With the intention of improving further, in 2009 he submitted a planning application to make the park three times bigger.
The reaction was mixed and, although Barrow Borough Council's planning officers recommended approval, councillors on the planning committee said they were minded to refuse.
'Very long time'
In autumn 2011 Mr Gill decided to appeal to the government's Planning Inspectorate, on the grounds that Barrow Borough Council had not made its decision quickly enough.
He said: "We were told that they were going to say no. Because they hadn't made a decision within eight weeks - in fact I think we were at the 20th week, or something like that - we took advice.
"They said, look, if you wait for them to say no you're going to waste another two months and you could be two months down the road with the Planning Inspectorate by then. Which you were going to do anyway, you'd have to appeal anyway."
Mr Gill added: "It's taken a very long time getting where we are so, having further delays just because councillors were minded to refuse, it wasn't worthwhile us hanging on. It was costing us a lot of money."
The Planning Inspectorate is expected to give its decision in February and Mr Gill believes it is more likely than the council to say yes.
Barrow Borough Council does not wish to comment.
Hopeful of approval
Mr Gill says it costs £5,000 a day to run the zoo - and prices are rising. Last year, he says, they spent an extra £200,000 on heating, food, insurance and fuel.
Despite that he says there is no risk of making a loss, they are "always successful" and this year they have been able to reinvest more than £200,000.
But future growth, he believes, is dependent on the park's £4m expansion from its current 12 acres to 37 acres (five to 15 hectares).
He wants new animals, buildings, facilities, a play area and 15 more full-time staff. For safety reasons he wants the space to have all the car parks in the same place so visitors do not have to cross the road.
And if the Planning Inspectorate says no?
"It would be a very, very, very sad day for the zoo at Dalton," says Mr Gill.
"We will keep operating but it will be a very, very difficult thing to look forward with any confidence. It would be a very backward step for us all."