High winds gusting at more than 100mph in Cumbria bring chaos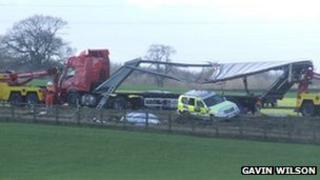 Storm force winds have caused problems for commuters across Cumbria.
Road and train users experienced delays due to fallen trees, vehicles blown over and downed overhead cables in winds gusting up to 111mph (178km/h).
A police car was one of several vehicles blown off the M6 near Penrith. No-one was seriously hurt.
The storms knocked out power to more than 600 homes around Windermere in the early hours - about 100 are still waiting to be reconnected.
Cumbria police said some motorists had ignored road closure warnings on the A592 between Windermere and Newby Bridge which had suffered flooding.
Police said flooding also affected the A591 between Bothel and the Castle Inn at Bassenthwaite for a time.
Fallen trees blocked the A595 at Holmrook and the A6 at Hackthorpe.
Network Rail said problems with overhead cables between Penrith and Oxenholme meant up to 54-minute delays on the West Coast Main Line.
The company said it expected the situation to ease as the high winds died down later.
The Met Office said a wind gust of 111mph (178km/h) was recorded at Great Dun Fell.