Wasdale Head without mains power since Christmas Eve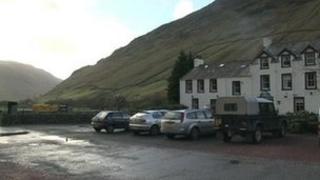 Lake District villagers have demanded immediate action to fix a faulty power cable which has left them without mains electricity since Christmas Eve.
Homes and businesses in Wasdale Head, Cumbria, have been using power from generators for nearly three weeks since the fault on the cable under a lake.
Residents said the generators' "constant drone" was spoiling the area.
Electricity North West said it was unable to say how long the cable repairs would take.
"We are a small community, but we are a community, we shouldn't be forgotten about," said resident Adam Naylor.
The village has been supplied with generators for temporary power, but residents say the noise has been disturbing the village's peace.
'Constant drone'
Mr Naylor said the temporary power generators were "noisy".
He added: "You can walk down the valley and still hear it, there's a constant drone."
Electricity North West said it had located the faulty cable, which has run under nearby Wastwater since 1977.
The company said it wanted to replace the cable or divert it around the lake, but said it would take "some time" as access to the head of the valley, along with getting the correct machinery to the site, was "very difficult".
However, it said it wanted to "reassure" residents that experts were "putting a lot of time and effort" into coming up with a solution.