Lake District village of Wasdale Head living without mains electricity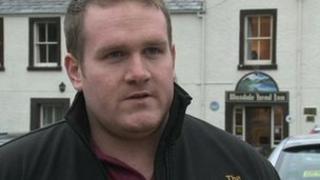 The Lake District community of Wasdale Head has been without mains electricity since Christmas Eve - and it could be another six months before it is restored.
Adam Naylor is the manager of the village pub, the Wasdale Head Inn. The lights are being kept on by a generator in the field next door, provided by Electricity North West.
The handful of homes and businesses are coping, but Mr Naylor said the situation was beginning to affect his livelihood.
He said: "People are quite understanding, but it does have an impact on the hotel. Also my flat is there and the noise of the generators is affecting my sleep and that of the guests.
"People come to Wasdale for the peace and quiet, they don't expect to have a big dirty generator there. That said, if we didn't have the generator we wouldn't have electricity."
'Forgotten valley'
Electricity North West has apologised for the problem, which it says is in a cable which is underwater and will be difficult to fix.
But Mr Naylor said the community had been "forgotten" by the company.
He said: "We are always down the bottom of the list whatever it is - whether it be electricity or telephone lines or anything.
"Wasdale is the forgotten valley. Probably because nobody else has to live up here."
Villagers have been told they could be receiving their electricity supply from generators for up to six months, while work to restore the mains supply continues.
Jane Fleetwood of Electricity North West, apologised, saying: "We know they have had noisy generators for longer than we had hoped.
"It isn't acceptable and we are working to resolve things as quickly as possible."
Wasdale Head is a remote village in the western Lake District.
It is a popular spot with walkers wanting to tackle England's highest peak, Scafell Pike, as well as other surrounding fells like Great Gable.
There is one road that leads into Wasdale Head, which skirts Wastwater, where the problem cable lies. Heading along that road visitors are greeted with breathtaking views of the lake and the rugged terrain surrounding it.
Mr Naylor, who runs the pub with his partner Jo Renfrew, added: "I'm really not happy at all. It's going to be six months of interruptions because they've got to service the generators every week or two weeks.
"We're off for an hour at a time and when you are running a hotel you need a continual supply of power. You need to hoover the rooms, we need to cook in the kitchen, you can't cook in the dark it's just dangerous.
"Knowing you're not going to be having a constant supply of power is just not good enough at all. It's going to be Easter soon so it's not going to be good for us at all."