Lake District bridleway near Gatesgarth repaired after floods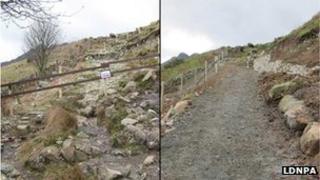 A Lake District bridleway which was washed away in floods in 2009 has reopened after £70,000 was spent on repairs.
The path, between Gatesgarth and Scarth Gap, allows walkers to look over Buttermere.
About 100 tonnes of material were used to repair the 33 yards (30m) of path.
The route, described by fell guide Alfred Wainwright as "one of the pleasantest of foot passes", is used by walkers climbing Haystacks.
Slate from a nearby mine has been used to direct water away from the surface of the path.
Dylan Jackman, project co-ordinator for the Lake District National Park paths for the public, said: "I'm really delighted that the bridleway has been repaired.
"It's been a while coming, but it has been quite a unique project and something that needed careful consideration."
The Rural Development Programme for England (RDPE) helped fund the repair project.