Puppet theatre in Cumbria receives £90,000 arts grant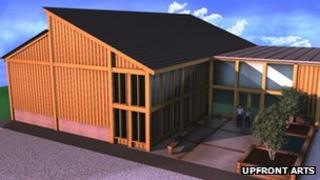 Plans for a purpose-built puppet theatre in north Cumbria have moved a step forward with a £90,000 Arts Council grant.
The £300,000 puppet theatre and museum is to be built on a site near Penrith.
The flexible, 140-seat auditorium and presentation area, will feature a puppet bridge for string puppet operators to work from and a floor trench for rod puppet operation.
Puppets from national collections will go on display in the museum.
The building will be one of the first dedicated theatre and performance venues for the area, according to John Parkinson from Upfront Arts which is behind the project.
The Hutton in the Forest project will upgrade facilities at the existing gallery and coffee shop.
Mr Parkinson said the new premises should attract more visitors and enable a wider variety of events to be held.
National importance
The Arts Council of Great Britain Capital Fund money will be added to £182,500 from the Rural Development Program for England and £3,500 from The Landfill Trust.
Leroy Philbrook, relationship manager, Arts Council England, said: "The Arts Council's aim is to achieve great art for everyone - this redevelopment will certainly improve the puppetry theatre offer in the north and, over time, could well develop into an asset of national importance."
The new building will reuse rain water to flush the toilets and a solar electric generating system will be installed on the roof.
The building will be built on land donated to the project on a peppercorn lease.