Eden Council plans to sell Penrith Mansion House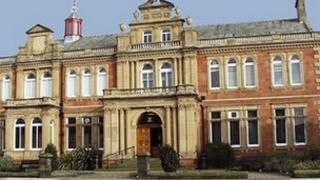 Plans to rationalise a Cumbria council's office space could lead to the sale of a historical building.
Proceeds from the sale or leasing of the Mansion House and the Corney Square premises in Penrith would be used to fund an extension to the town hall.
This would house all Eden District Council's offices, apart from the Tourist Information Centre and the Penrith and Eden Museum, on one site.
The move would also save about £100,000 a year in running costs.
The council, which needs to make savings of £1.1m, will put the buildings up for sale or lease in March.
Councillor Gordon Nicolson, leader of the council, said: "A one-site office operation is common sense.
"It will save the taxpayer £100,000 per annum, but also offers efficiencies in working practices and the potential for sharing accommodation with public and voluntary sector partners.
"This project also benefits the wider economy by retaining access to public services in the northern part of Penrith at the town hall, complemented by additional parking facilities, to encourage residents, shoppers and visitors to explore the town from another access point and for the benefit of local businesses."