Keswick Mountain Rescue Team reports busy year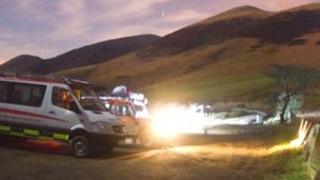 A Lake District mountain rescue team has had one of its busiest years in its 65-year history.
Keswick volunteers carried out 96 rescues in 2011, with six of those incidents involving fatalities.
However, this was down from its two busiest years of 2009 and 2010, which had 136 and 144 rescues respectively.
A team spokesman paid tribute to the volunteers, their families, and employers who allowed them to be called out during working hours.
He also stressed how important it was that walkers and climbers made sure they were properly equipped for the fells.
"Many of our alerts and searches could have been avoided if all walkers were properly equipped," he said.
"One aspect of this perhaps not recognised is that if we are out on a search all night for someone who is not properly equipped and perhaps didn't need rescuing, and then we are called out the next morning to a seriously-injured casualty.
"It will be the same team members who respond, team members who could perhaps more efficiently respond if they hadn't missed the previous night's sleep."