Cumbrian museums to get share of £60m arts grant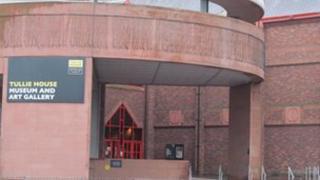 The Cumbria Museums Consortium has been awarded a share of £60m from the Arts Council.
The money, split over three years, will be used for projects involving children and tourism across the county.
The consortium involves Tullie House in Carlisle, the Wordsworth Trust and the Lakeland Arts Trust.
The bid was one of 16 to be successful out of 29 eligible applications. The exact amount of each award will be published in April.
Wordsworth Trust director Michael McGregor said: "This award is a huge vote of confidence in Cumbria's museums.
"Arts Council funding will allow us to build on a strong partnership, helping us to reach out and benefit more people, in Cumbria and beyond."
It is the first time major renaissance grants have been awarded for a three-year period.
Sarah Maxfield, regional director for Arts Council England, said: "We are delighted that we have been able to fund the Cumbria Museums Consortium comprising Tullie House, Lakeland Arts Trust and The Wordsworth Trust.
"Together they will ensure a strong mandate for museums in Cumbria and will work to build wider resilience with partner museums.
"Our funding will also go towards developing the museums' focus on creative collaborations with its local communities and will help to ensure that they reach new and more diverse audiences both locally, regionally, nationally and internationally."