Wounded soldiers train for Everest climb in Cumbria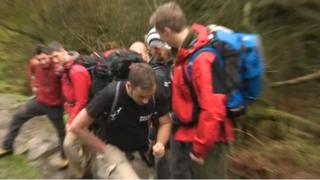 A team of injured servicemen are training in the Lake District ahead of an attempt to become the first war-wounded personnel to climb Mount Everest.
It is the final training camp for the group, organised by the Cumbrian charity Walking with the Wounded, which helps get injured servicemen and women retrained and back to work.
In 2011 the charity received international attention when its trek to the North Pole was joined by its patron, Prince Harry.
One of the team aiming to climb to the summit, Karl Hinett, was severely burned by a petrol bomb in Basra in 2005.
He said: "Ever since my injury I've always tried to push myself, just to find what I can do, post-injury.
"Everest is like the ultimate challenge."
The scale of the challenge facing him is even more apparent because his damaged skin, easily affected by cold weather, will make him prone to frostbite.
Mr Hinett is used to things being difficult - last year he ran 52 marathons, sometimes two in a weekend to fit in around the Walking with the Wounded training.
'Highest thing on the planet'
Five of the members of the Everest team have an injury and a story of bravery and danger to go with it.
Many still thrive on testing themselves to the limit of what they can achieve now, post-injury.
Capt David Wiseman - shot in the chest during a firefight with the Taliban in Afghanistan - sees it as proof "you can set your own challenges".
"The most exciting thing about climbing Everest is just to be on the top," he said.
"At that minute, to be the highest thing on the planet."
Martin Hewitt, Walking with the Wounded's expedition manager, said he too joined the military "searching for adventure and challenge".
The trek to Everest - and the North Pole before it - offers him an opportunity to continue that search.
He said: "That's why I joined the parachute regiment. I can no longer achieve that because of my injury, but I still seek to lead people in austere environments."
'Fantastic opportunity'
Shot through the arm, Capt Francis Atkinson went from army doctor to patient.
He was recruited by Walking with the Wounded during rehabilitation at the Headley Court military hospital, attracted by a "good cause" and the "fantastic opportunity to do some climbing".
He thinks a week in the Cumbrian hills will be an opportunity for the men to get used to their kit and each other.
"Because we're all either ex- or serving armed forces personnel we have a fairly good way of knowing what each other's strengths and weaknesses are," he said.
They all praise the charity and its efforts to help those whose injuries can sometimes make even the smallest challenges seem impossible.
Mr Hewitt said: "It's close to my heart. I've seen a number of my own colleagues injured on operations and, while some go on to make a successful transition into civilian street themselves, others need a great deal of help and support."