Awards for engineering projects in Cumbria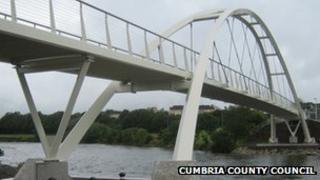 A flood prevention scheme and a new footbridge in Cumbria have both won civil engineering awards.
A £700,000 scheme to reduce flood risk in Cockermouth, won the north west Institution of Civil Engineering (ICE) Community Project award.
The project now protects 42 homes in an area that suffered repeated flooding.
In the same north west category the 66-yard (60m) long £1.7m Navvies footbridge in Workington, west Cumbria, was highly commended.
Community involvement
The Gote Road flood defence system in Cockermouth includes embankments and a pumping station.
The Environment Agency encouraged community involvement in planning the scheme.
Sue Cashmore, who chairs Cockermouth Flood Action group, said:" We have put a lot of hours and a lot of effort in, and it is recognition of that effort that we have put in and recognition that we were part of the team."
Alan Butler, ICE north west regional director, described the project as a first-rate example of co-operation between community and agency.
Navvies Bridge was built following the 2009 floods.
Tony Markley, Cumbria County Council's cabinet member for highways, said: "I'm delighted that Navvies Bridge has won national recognition for the contribution it has made not just to the local community, but also for being another example of excellence in British engineering."