Woodland airlifted to Cumbrian fell by helicopter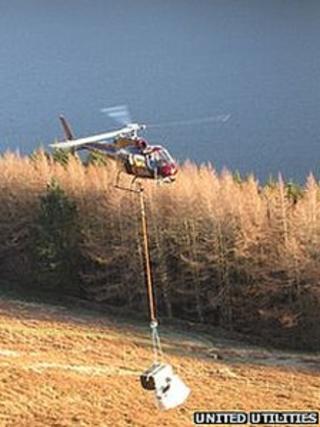 A new native broad leaf woodland is due to be planted in Cumbria after more than 30,000 young trees, stakes and tree-guards were flown to the site by helicopter.
The trees will make up 101 acres (41 hectares) of woodland on Bampton Common, near Penrith.
Transporting trees and equipment to the site by land was not possible because of water-logged ground.
The helicopter made more than 80 flights to the remote location.
United Utilities woodland officer Vicky Bowman said: "Bampton Common is land which forms the precious catchment for Haweswater reservoir, which is the North West's largest single source of drinking water.
"By stabilising the ground, we hope the roots of the new wood will slow down the run-off of rain water, prevent erosion and improve the quality of raw water which gets into the reservoir."
United Utilities owns more than 16,000 hectares (40,000 acres) of land in the Lake District, which amounts to about 8% of the national park area.
The company's northern area estates manager, Paul Phillips, said: "By restoring native species and encouraging more catchment sensitive farming techniques, we want to improve biodiversity and the quality of the water we drink. This is one of the first major projects to come to fruition."