Cumbria Central Plaza Hotel fire repair work begins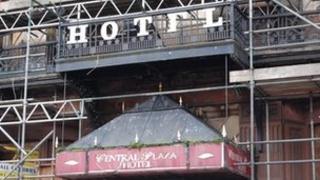 Repair work has begun on the Central Plaza Hotel in Carlisle which was badly damaged by fire in July.
Carlisle City Council served an 'Urgent Works Notice' to the owners of the local landmark to ensure that works were carried out.
The owners did not respond so the council have taken on repairing the derelict building on their behalf.
The work repairing scaffolding and the roof to make the building weather tight is likely to last until early March.
Councillor Marilyn Bowman said: "This is the first time that this action, under planning legislation, has been used by the council and it enables the council to undertake the works if the owner takes no action.
"Although the building is structurally secure, it's now reached the stage that we have to take steps to ensure the building does not deteriorate any further."
The council will undertake the work and will then be able to seek recovery of the costs from the owner. This could result in a legal charge on the building.