Cumbrian volunteers restore historic oak screen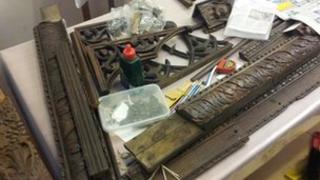 An historic finely-carved oak screen is undergoing restoration in Cumbria after being recovered from a derelict Scottish church.
Dating back to 1675, the screen once decorated Brougham Hall, near Penrith, where the restoration is being done.
The 337-year-old art-work originated, according to the current owner, in the Netherlands.
Volunteers have so far spent more than 500 hours working on the screen.
'Alert genealogist'
Christopher Terry is responsible for restoring Brougham Hall and the screen. He said he was alerted to its existence thanks to a researcher.
"A very alert genealogist from Manchester was researching his family," he said.
"He had discovered that his grandfather had been a very competent joiner in Penrith and he had been tasked, in 1934 when Brougham Hall was going through a bad time, to remove the screen and take it up to St Johns Evangelical Church in Girvan, Ayrshire, in memory of a barrister's late wife."
Featuring carved fruit, saints and sea life it was recovered from the church which is now in disrepair, and returned to Brougham Hall in August 2009.
South Lakes Decorative Fine Arts Society (SLDFAS) volunteers have spent more than 500 hours on the 20ft x 10ft (6m x 3m) restoration process so far.
The next part of the operation, according to Mr Terry, will be to remake any missing parts.
"We will have to get a really expert carver to carve the bits that are missing, so that we can put them back in," he said.
Vickie Robinson from Kendal is one of the volunteers working on it.
She said: "It was so dirty, you couldn't see the detail to start with and as we have brushed and cleaned it, it's just come to life under our hands."
When the restoration is complete, the screen will be put back where it used to be, in the Armour Hall, which has yet to be restored.