Workington road still closed after gas leak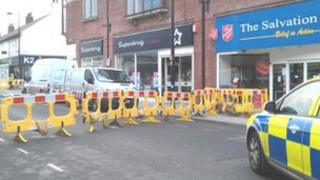 Businesses in a Cumbria town say they have lost a day's takings because of a gas leak.
Police closed Murray Road in Workington on Tuesday morning as a precaution while engineers fixed the leak.
However, the road will remain closed for a second night as engineers have discovered more gas in the air.
Keith Newman, of Northern Gas Networks, said a decision on whether shops and businesses could reopen would be made on Thursday morning.
He said: "We managed to locate the gas escape, but the residual gas isn't escaping from the property and there is still traces in the road.
"Until those readings are right down, next to nothing, we won't be leaving the site."