Forensic students in Cumbria search for training cars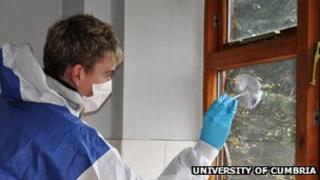 Students on a forensic training course in Cumbria are looking for cars to help them with their studies.
The vehicles will be used to help train students on the policing, investigation and criminology course at the University of Cumbria.
The vehicles do not need to be roadworthy or have a working engine.
Part of the three year degree course takes place in a crime scene house, where students train using mock crime scenarios.
Maureen Taylor, a lecturer at the University said: "Part of the role of a forensic investigator is to examine vehicles and whilst we have space for two cars at the crime scene house, we are looking for donations of the vehicles themselves."
Students will examine the vehicles forensically, as if they had been broken into or stolen.
Student Monika Demczuk, 28, from Carlisle said: "We have learned that vehicle crime is a problem everywhere and working with real vehicles will make sure we have the practical skills we need to take forward into our future careers."