Workington gas leak investigation continues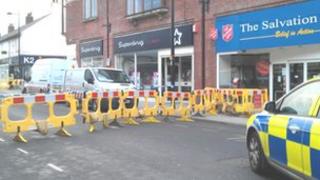 Engineers are still working at the scene of a gas leak in a Cumbrian town two days after it was discovered.
Murray Road, in Workington, was closed on Tuesday.
Northern Gas Networks said the damaged main had been repaired but there were still low-level traces of gas and they were trying to locate the source.
Residents were allowed to return to their homes on Wednesday but five businesses remain closed while investigations continue.
A Northern Gas Networks spokesperson said: "We are continuing to work around the clock in order to resolve this situation, and would like to thank local traders for their continued patience.
"Gas readings have dropped substantially, but we are still getting low level traces in the crossroads area.
"At this stage, it is unclear if these are residual traces, left over from Tuesday's gas leak, or stem from a second, subsidiary leak."