RNLI 's John Stobbart and Andy Rodgers to get awards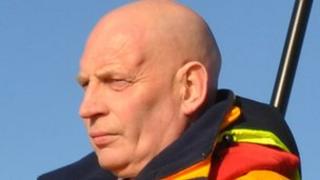 Two lifeboat rescuers are to be honoured for their bravery after coming to the aid of a battered trawler in gale-force winds in Whitehaven Harbour.
RNLI rescuers John Stobbart of Workington and Andy Rodgers of Bridlington towed the George Lou-N boat through 13ft (four metres) waves.
They are to be awarded the Thanks of the Institution on Vellum, which is the RNLI's fourth highest gallantry award.
The trawler, with a seriously injured man on board, had broken down.
Mr Stobbart, 53, oversaw the towing of the boat and Mr Rodgers, 33, jumped on board to help the injured man.
A spokesman for the RNLI said: "The vessel was heaving violently up and down in a heavy swell and posed a real risk to the lifeboat and her crew.
"Coxswain Stobbart used the lifeboat to skilfully nudge the trawler into the inner harbour wall, where it was secured, and paramedics were able to get on board to tend to the injured man.
"The actions of Andy Rodgers in taking the initiative to gain access to the casualty vessel were selfless and brave."
The injured made a full recovery. A date for the men to receive the honours has yet to be set.