Snakelocks anemone found in Cumbria after 21-year absence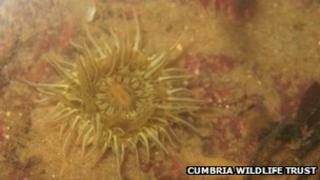 A survey of a Cumbrian beach has rediscovered a sea anemone, previously recorded more than 20 years ago in the county.
The discovery of the Sagartiogeton undatus, commonly named the small snakelocks, was made during a survey of the Walney Channel, Barrow in Furness.
It is the first sighting of the anemone in the county since 1991. This was made in the same area.
Anemones cling to rocks, making them unusual on the region's sandy shores.
Nikki Taylor, from Cumbria Wildlife Trust said: "This is an interesting find and shows the range of biodiversity that can turn up on our surveys.
"It again proves the wide variety of life we have in the Irish Sea."
Snakelocks are to found to the south of Cumbria and as far south as the Mediterranean Sea.
They have long, flowing tentacles and are usually green, sometimes with purple or scarlet tips to the tentacles.