Network to hit back at domestic violence in Cumbria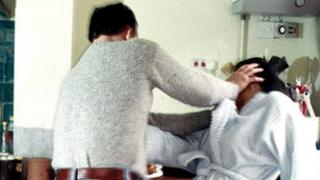 A network has been launched to support domestic violence victims in Cumbria.
It comes as figures reveal a 15% increase in reported cases in 2011, compared with the previous year.
Police believe that although campaigns to raise the profile of the problem have been working, the real number of incidents remains higher.
Cumbria Domestic Violence Champions Network brings together organisations including councils, the police and housing and church groups.
Three "hubs" have been set up around the county, with the aim of improving community and organisational responses, and providing training and assistance to enable front line staff to better support the victims of abuse.
Last year there were more than 6,500 cases of domestic violence reported to Cumbria Police but it is estimated about 60% of incidents went unreported.
Councillor Anne Burns, cabinet member for children's social care, said: "Domestic violence is a real scourge on society and unfortunately it happens here in Cumbria the same as everywhere else, so tackling it is a priority for the county council and our partners.
"The launch of this new network will give us an enhanced ability to confront the problem by helping raise awareness and ensuring that victims get the support and assistance they need."