Beatrix Potter letter auctioned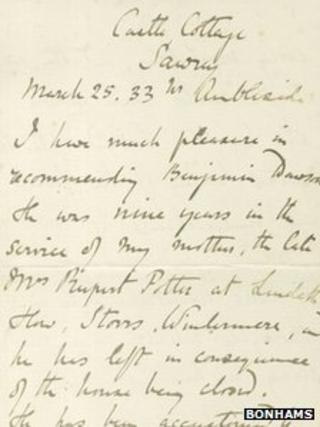 A hand-written letter signed by H.B. Heelis, better known as Beatrix Potter, is expected to sell for around £1,500 at auction in London.
The autograph testimonial is a letter of recommendation for Benjamin Dawson, the gardener employed by the Peter Rabbit author's late mother.
Written on black-edged mourning paper, it is dated 25 March 1933.
It will be sold as part of an auction of books, maps and manuscripts at Bonhams on 27 March.
Mr Dawson is described in the letter as being in the service of the late Mrs Rupert Potter at Lindeth How, Storrs, Windermere for nine years.
Mrs Heelis writes: "He has been accustomed to herbaceous border, some bedding out, green house, peach house, early vegetables, and the use of the motor lawn mower.
"Mrs Potter had a high opinion of Ben's usefulness, he is a thoroughly reliable man and strong in health."
The letter is being sold by a private UK-based vendor.
Beatrix Potter first introduced the character of Peter Rabbit - based on her own pet - to her stories in 1902 after its beginnings as an illustrated letter in 1893.