Cumbria wetlands 'poor condition' threatens rare wildlife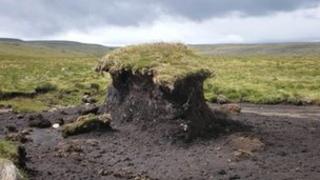 Rare wildlife and habitats across Cumbria are at risk, according to a report that found 97% of the county's wetlands are in "poor condition".
Cumbria Wildlife Trust discovered the National Park's upland wetlands were in an "unfavourable management" condition after a two year study of the land.
They also found rare species which rely on the wetlands were in decline.
The causes of the poor condition included heavy grazing, past drainage, under-grazing and bracken encroachment.
Now, thanks to £108,442 of funding from SITA Trust, who support community and environmental improvement projects, a three year project will be carried out to restore the habitats.
The Uplands Wetlands Restoration project will be carried out by Cumbria Wildlife Trust and local landowners.
'Shocking'
A host of national and local rare species, including insects such as the small pearl bordered fritillary butterfly and the keeled skimmer dragonfly, have suffered major decline in the wetlands and nationally.
Neil Harnott, senior conservation officer at Cumbria Wildlife Trust, said: "Intact wetlands are massively important for large numbers of rare species.
"We anticipated some poor conditions, but the findings were shocking.
"This project wants to work with landowners to help get our wetlands back into good management.
"This will not only safeguard the special wildlife that lives there, but help purify the water that flows off the fells and to turn the sites form carbon sources, to carbon sinks."