Care of hanged Harry Hucknall 'poorly managed'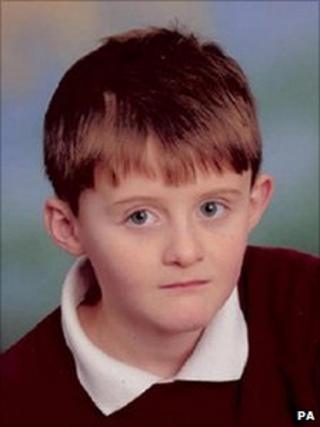 The care of a 10-year-old boy found hanged in his bedroom was "poorly managed" by key agencies, a serious case review has concluded.
Harry Hucknall had clinical depression but his situation was not "demonstrably improved" by authorities.
The review by the Local Safeguarding Children Board was ordered after his death in Dalton-in-Furness, Cumbria.
It said all agencies involved "deeply regret" what had happened to the 10-year-old.
At an inquest into Harry's death, last March, a coroner heard he had attempted self-harm and was the victim of bullying.
He had also been suffering from attention-deficit hyperactivity disorder.
He had first been referred to Child and Adolescent Mental Health Services (CAMHS) by his GP in 2007, having been found with a plastic bag on his head and apparently saying he wanted to die.
Despite being prescribed the drugs fluoxetine, an anti-depressant, and Ritalin, a psychostimulant, he did not receive a psychiatric assessment.
Instead, he was offered a programme of undirected play therapy, the review confirmed.
CAHMS reassessed him in 2010 after he had again been found with a bag over his head and was then diagnosed with a major depressive illness by a child psychiatrist.
However, although he was then subjected to regular multi-agency involvement, his death, in September that year, was not prevented.
'Comprehensive plans'
At the inquest however, West Cumbria Coroner Ian Smith ruled out suicide and recorded a narrative verdict on his death, saying although he died as a result of his actions, he had not understood their true consequences.
In the review report's verdict on his care it described "evidence of poor practice throughout, which included both single agency failings and generally poor inter-agency communication and collaborative working".
"Practice was considered to be largely adult rather than child-focused and there was no evidence of Child F's [Harry's] voice being heard or his wishes and feelings taken into account by professionals working with him and his family," it concluded.
Since then however, "full and comprehensive action plans" have been put in place to improve services for children and their families in the county.
"Many of the actions have been implemented, and the remainder are well on their way to completion," it said.