Whitehaven's rugby league world cup hopes under threat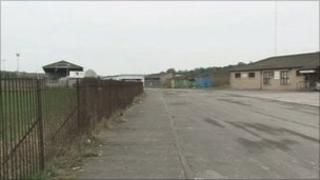 Plans for Whitehaven to be one of the venues for the 2013 Rugby League World Cup are hanging in the balance.
The yet to be built Pow Beck Valley Community Stadium was granted host venue status by the Rugby Football League in November 2011.
BBC News understands Whitehaven Miners Social Club wants £750,000 to allow access to the site.
If negotiations are not concluded within the next few days the stadium might not be ready in time for the cup.
The partnership behind the £5.5m development includes Copeland Borough Council and Whitehaven Rugby League Club.
The council said it was not in a position to comment on the negotiations but said they were at a "delicate and sensitive" stage.
Whitehaven Miners Social Club declined to comment.
If an agreement over the access road is not reached the delay to the development could mean the stadium is not finished in time.
The sport's governing body, the Rugby Football League, said it intends to publish its schedule for the 2013 tournament next week and has contingency plans in place in case Whitehaven is not ready.