Cumbria Police given an eye in the sky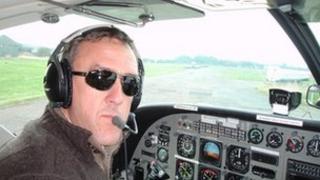 A Cumbrian special constable will be combining his twin passions to provide an eye in the sky for the county's police force.
Cumbria Police said running an air operation was expensive and, as a smaller force, there was not a need for a full unit.
Mike Carruthers, who is a special constable in the south of the county and a pilot, offered to provide air support free of charge.
He will provide back-up for police operations such as searches for high-risk missing people.
Mr Carruthers, who runs North West Parachute Centre, at Cark Airfield, will be able to reach any part of the county within 25 minutes.
"I am delighted that this initiative is being launched in Cumbria as I get to combine my two passions - flying and policing - while also benefiting the community.
"I am familiar with police procedure and protocol which I hope will make the process of relaying immediate, detailed information about scenes or incidents back to the officers on the ground a lot easier."
'Running commentaries'
Ch Insp Kevin Greenhow, of Cumbria Police, said: "Many of the much larger police forces across the UK have access to their own air support units due to the demand from serious and major incidents.
"Running and maintaining these sorts of air support units incur very high running costs and, as a smaller force that is fortunate to see far fewer serious crimes, there isn't a need for a full unit in Cumbria.
"However, thanks to Mike, this new initiative will allow Cumbria Constabulary access to an experienced special constable in the air, who, equipped with his own airwave unit and aircraft, will be able to provide running commentaries on incidents from his birds-eye view."
A spokeswoman for the Association of Chief Police Officers said it was not aware of another force using a special constable in this way.
Tony Cowan, from charity Sky Watch Civil Air Patrol, said Mr Carruthers was the only special constable involved in one of its operations.
The Civil Aviation Authority said: "Anyone wishing to use aircraft in this way would need to obtain an Air Operator Certificate (AOC) from the Civil Aviation Authority, and must comply with all related requirements for police operations."