Wife death suspect Stanley Wilson 'changed after operation'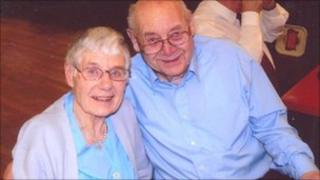 A Cumbrian man, who police believe killed his wife before killing himself, underwent a personality change after an eye operation, an inquest has heard.
Stanley Wilson, 92, believed his wife Peggie, 89, was trying to poison him and that other family members were in on the "plot".
The inquest in Kendal heard that Mr Wilson began acting "out of character" after an operation in December 2010.
The couple were found dead in their home in Kendal on 18 February, 2011.
The former quarry worker started to lose his sight months before his operation for a detached retina, the hearing was told.
'Violent assault'
Relatives of the "devoted couple" and their neighbours told an inquest into their deaths that his behaviour drastically changed following surgery.
The pensioner believed his wife was attempting to alter his mind so that he would change his will and refused to eat any meals she served.
She suffered multiple injuries at their address in Mint Dale with numerous knife wounds to the neck - one which severed her jugular vein - and blunt trauma injuries to the face and head, consistent with punching.
There were also signs that she had been asphyxiated.
Pathologist Dr Alison Armour said: "This frail old lady died as a result of a sustained and violent assault. She died from a combination of these injuries."
She ruled that Mr Wilson died from self-inflicted knife wounds, many of which were to the neck.
The inquest was told that concerns for Mr Wilson had been raised with his GP. He was admitted to Royal Lancaster Infirmary for assessment but was discharged the day before their deaths.
Giving evidence, Mrs Wilson's daughter, Sandra Smith, from Leeds, said that "out of the blue" her mother rang her in January 2011 to tell her of the poison accusations.
She said that while in hospital in Lancaster Mr Wilson also accused her of "being in on the plot as well".
She said the couple had previously been "very happy" and a "very devoted couple who did everything together".
'Utter shock'
Mr Wilson's son Graham and wife Barbara discovered the bodies a day after he had been discharged from Royal Lancaster Infirmary.
Barbara Wilson said she first became aware of a problem on the day he was taken to hospital on 25 January when she had a phone conversation with her mother-in-law.
"She said he had been accusing her of trying to poison her, to do away with him," she said.
"That was a complete and utter shock to us."
She added: "Stanley had said that we were after his money and we were trying to get rid of him."
In a statement read out to the court at County Hall Offices, St Paul's Hospital staff nurse Sharon Ormsby said Mr Wilson was treated with steroid eye drops as part of his post-operative treatment.
Ms Ormsby said she had not noticed any psychotic symptoms as a result of the medication.
The inquest continues.