Penrith bowling club members 'heartbroken' after fire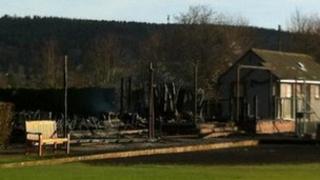 Members of a bowling club in Cumbria have been left "heartbroken" after their bowling pavilion was completely destroyed in a "serious fire".
Cumbria Police were alerted to the blaze at Castle Park Bowling Club in Penrith, at about 19:45 GMT on Sunday.
Andrew Lee, a member of the club for more than 30 years, said "everybody is devastated".
Police are investigating the cause of the fire and are appealing for anyone with any information to contact them.
Mr Lee said: "It's heartbreak for all the club members. Everything has gone.
"[But] we'll bounce back as long as we can keep our members together, we will survive as a club."