GlaxoSmithKline Ulverston factory choice hailed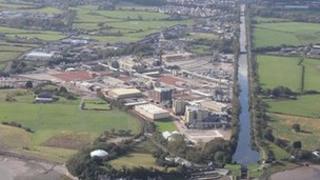 Business leaders and politicians have hailed GlaxoSmithKline's decision to build a new factory in Cumbria as a major vote of confidence.
The drugmaker will spend about £350m on the site at Ulverston, which it said would create up to 500 permanent jobs.
Business leaders said it was crucial to the area's economic future.
They said the new factory would help retain young people in Cumbria as well as attract skilled workers into the area from further afield.
Cumbria County Council leader Eddie Martin said: "This is fantastic news for Cumbria and I'm delighted that GSK have recognised not only the broad and specialised skillbase we have here, but also that Cumbria is a fantastic place to live and do business.
"They're setting up shop in a wonderful part of the world and it's the best bit of news for the Cumbrian economy we've had in recent years."
The company said it expected there to be up to 500 permanent jobs at the factory plus hundreds of jobs during construction, which is due to start in 2014/15.
The plant is expected to be fully operational about six years later.
GSK currently has a site in Ulverston, which employs about 240 people and manufactures material for antibiotics and that will continue to operate alongside the new factory.
'Team effort'
South Lakeland Council Liberal Democrat economy and enterprise Councillor Ian Stewart said: "This is showing that Glaxo has a belief in the future of Ulverston and a belief in the future of Cumbria."
He said it had been a team effort with a range of organisations working together to attract the company to Cumbria.
GSK chief Sir Andrew Witty said: "We have got a great history here - we have been here since 1948, fantastic workforce who have really done everything we have ever asked them to do in just a brilliant way.
"We have got the space to expand and we have got the technical skills here which we think are the hub of what we need to start up the new facility.
"So it all really came together. Great support from the local community, local MP John Woodcock, the council all came together into a very competitive bid. Kept it in Britain and then kept it in Cumbria."
He acknowledged that the new jobs would bring levels back to what they had once been.
Cumbria Chamber of Commerce chief executive Rob Johnston said Thursday's news was "massive" for Cumbria and the choice of location was crucial for the long-term economic survival of south-west Cumbria.
But with an unemployment rate of just 3.5%, he said many of the skilled jobs would be an attraction for graduates from the whole of the north-west of England.
He said: "The choice of Ulverston is very clever, when you think of the potential for attracting graduates from places like Manchester.
"Obviously, news like this will also help to retain young people in Cumbria who might otherwise move away.
"It all bodes well for the future of the county."
'Huge boost'
Prime Minister David Cameron said it was "excellent news for Cumbria".
"A major investment that will create many highly-skilled jobs and provide a huge boost to the area," he said.
"The plans for a new manufacturing facility at Ulverston show why we are right to cut business tax and focus on making the UK a dynamic and competitive place that can attract exactly this type of high-tech investment."
Barrow and Furness Labour MP John Woodcock said: "After a hard fought competition with other UK sites, GSK's decision is a major vote of confidence in the brilliant and determined workforce at Ulverston.
"There is so much potential in this region if the government is prepared to build on Labour's commitment to innovation and investment which set in train the process that Ulverston has won today."