Council 'optimistic' for Barrow homes revamp investor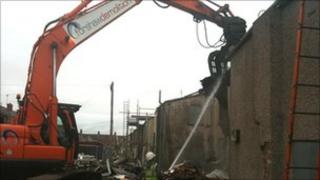 Council bosses are "optimistic" an investor can be found to redevelop a site in Cumbria where 180 homes are being demolished.
The last 10 houses in Marsh Street, Barrow-in-Furness, are being prepared for demolition
About 170 homes have already been knocked down since September.
Barrow Borough Council is spending more than £10m on regenerating the Arthur Street and Sutherland Street areas.
Housing renewal manager Chris Jones said the council is "optimistic" it can find an investor.
The authority said it was more cost effective to bulldoze the terraced properties than for them to be refurbished and brought up to date.
Some long-time residents had objected to moving and opposed compulsory purchase orders of their homes.
They later withdrew their objections.