Helene Todd asbestos case: 'My wife died keeping me clean'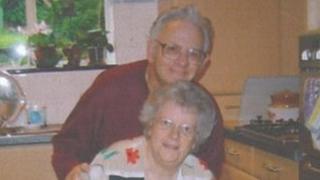 John Todd's wife Helene dutifully cleaned his overalls when he returned from the Army base where he worked.
Nearly four decades later the dust from those overalls would kill her.
"I was paid to be killed in the service of the country, my wife wasn't," said Mr Todd, 68.
"But she was killed in the service of the country keeping me clean, while I did my job."
A former Army mechanic, Mr Todd, from Carlisle, has won a compensation claim against the Ministry of Defence following his wife's death from an asbestos-related disease.
The military vehicles Mr Todd worked on while stationed in Germany during the 1970s used asbestos for heat protection.
After his shift he brought home his dirty overalls, which his wife cleaned.
In August 2009 she started to notice that things were not, in Mr Todd's words, "quite right".
During January 2010 the couple, who were married for more than 40 years, realised that contact would have deadly consequences for Mrs Todd.
'Widely used'
Doctors were then consulted and Mrs Todd was diagnosed with malignant mesothelioma. She died seven months later, aged 66.
Before she died Mrs Todd had begun compensation proceedings against the MoD. The case was then taken up by her husband.
"She was my life," said Mr Todd, "I will miss her."
Married in July 1966, the couple had met at Victoria bus station in London a few months earlier.
"I could not believe my luck when I walked past her," Mr Todd said as he recounted their first meeting.
"I soon turned around and went back," he added, with a croak in his voice.
As an Army mechanic for 22 years, Mr Todd served in the Royal Electrical and Mechanical engineers.
This took the couple to various locations around the world.
In 2010, with preparations under way for a compensation claim, Mr and Mrs Todd started to piece together their past.
"We worked it out that the only time that she [Mrs Todd] had ever been near asbestos was possibly working with my overalls," said Mr Todd.
An inquest was held into Mrs Todd's death in May last year.
"I find it entirely feasible this disease was caused by washing her husband's overalls," is how Mr Todd remembers the coroner's findings.
Despite his wife's death being caused by his work, Mr Todd said he was not angry with the MoD.
"It was a way of life, asbestos was used, asbestos was widely used, it was the magical thing," he said.
'Reasonable amount'
Awarded £110,000 by the MoD in an out-of-court settlement, Mr Todd is "appreciative" of the arrangements which will see him receiving about £95,000 after deductions.
"They've [the MoD] accepted straight away and they've paid," said Mr Todd.
"They've paid a reasonable amount... and I'm happy."
In a statement, the MoD said: "We extend our condolences to Mr John Todd on the death of his wife, Helene.
"When compensation claims are submitted, they are considered on the basis of whether or not the Ministry of Defence has a legal liability to pay compensation.
"Where there is a legal liability to pay compensation we do so.
"The amount of compensation paid is determined by common law principles which take account of an individual's pain and suffering, degree of injury, property losses, past and future financial losses and level of care required."
The Mesothelioma Trust estimates that almost 2,000 people a year are diagnosed with mesothelioma in the UK.