Muncaster Castle seeks 'funny and fearless' female fool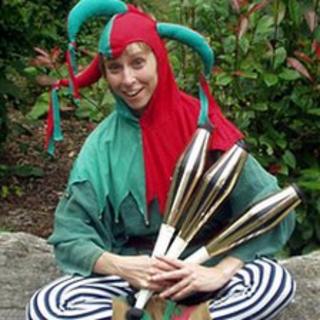 A castle is hoping to attract "funny and fearless" females to compete for a 400-year-old title.
Muncaster Castle, in the Lake District, hosts an international jesters' tournament each year.
The winner is appointed "official fool" and receives a salary in beer to keep visitors entertained.
Organisers have said they would like a variety of performers take part in June and are particularly keen to hear from women.
Peter Frost-Pennington, from Muncaster Castle, said: "We've had some fabulous fools entertaining us in the past, but especially in Jubilee year, we'd love to see some funny and fearless females apply.
"The annual jester contest has become one of the highlights of the Muncaster calendar, attracting visitors from all over the world.
"This year promises to be even bigger and brighter than ever and will form part of our fun-packed Jubilee Festival."
Thomas Skelton, known as Tom Fool, was Muncaster's jester in the 16th Century and is thought to be the inspiration for the fool in Shakespeare's King Lear.
Aspiring fools, who should apply in writing, need to have the skill to entertain an audience for about 20 minutes.