Titanic 'hotspots' in radio link with Maryport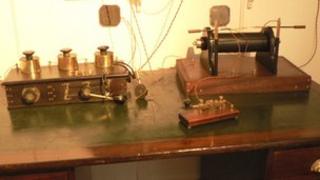 A Cumbrian town is to become a worldwide hub of radio communications to celebrate its link to the Titanic.
Maryport was the birthplace and childhood home of Thomas Henry Ismay, who founded the White Star Line.
On Saturday, members of a local amateur radio club will be sending signals from a replica of the liner's radio room, set up as part of a special exhibition.
There are hopes it will be able to make contact with Titanic "hotspots" around the world.
These could include the station in Nova Scotia which received the first distress message, and MS Balmoral, which is retracing the route taken by the ill-fated liner.
The Titanic was equipped with what was then state-of-the-art Marconi equipment.
All transmissions were made in Morse code, a sequence of short and long bleeps - dots and dashes.
On the night of the disaster it is thought that warnings received of icebergs might not have been clearly understood or acted upon because the operator was preoccupied sending personal messages from passengers to their families and friends.
Special call sign
After the collision the ship sent the then conventional Morse signal "CQD" to indicate distress, as well as the relatively new "SOS" signal.
This was more rarely used, but became standard after the sinking of the Titanic.
Starting from 11:00 BST the Workington and District Amateur Radio and IT Group will be transmitting a special call sign.
Anyone receiving it can transmit back, exchange details, and give a signal report.
Barry Easdon, from the club, said much would depend on atmospheric conditions, but they could receive thousands of responses.
He said: "On the day, we'll be a 'special event station'.
"The aim is to bring the connection between Maryport and the Titanic to the attention of the world."
The event is part of an exhibition being held at the Wave Centre in the town.
Cliff Ismay, one of the organisers and Thomas Henry's "great grand nephew", said he hoped it would put Maryport "on the Titanic map".