Windermere attracts open swimmers in their thousands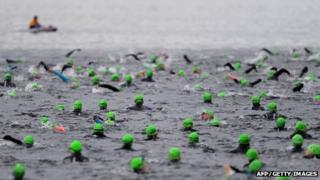 It is described as cold, dark and dangerous. So why are more and more people diving into the waters of Windermere in the Lake District?
Triathlon coach Emma Brunning swims in Windermere all year round and is "completely addicted to it".
And, she says, she is not alone now the number of open swimmers on this Cumbrian lake has "massively" increased.
"I've always swum in the Lakes but I used to be in there with one or two other people," she said. "Now I can swim with 10, 20, 30 other people at a time."
The appeal for her is "having no lanes, it's having the freedom".
Her experiences are reflected in the growing number of open swimming events at Windermere.
They now include the Salmon Run, the Great North Swim, the Open Water Swimming Club swimathon and a number of charity swims and record attempts.
Great North Swim Event director, Alex Jackson, said: "If you love swimming, once you've experienced it without lanes, walls or chlorine it can become very addictive."
He said they chose Windermere as the venue for their flagship swimming event because it was "one of the most picturesque places in the UK" and easily accessible.
In four years it has grown from 3,000 swimmers in one day to about 10,000 swimmers taking part over three days.
'Cold and damp'
Traditionally a pool swimmer with Carlisle Aquatics, Graeme Sutton is an open swimming convert.
He was happy with his view of tiles at the bottom of the pool and had no desire to swap it for an expanse of open water.
"Two years ago I would have said there's absolutely no appeal whatsoever," he said. "It's cold, it's damp, you feel horrible. Or at least that's what my thoughts were - until I went in."
He liked it so much that, in 2011, he embarked upon the challenge of swimming all 16 of the Lake District lakes in 16 days.
"It is quite black in places and you can't see the bottom," he says.
"To some people that is quite scary but others, they would prefer that, because some people just don't like to see seaweed because they think there's things in there."
His only concern with swimming in Windermere is the speed of some boats, despite a 10mph speed limit imposed officially in 2005.
Two clowns
Thomas Noblett, a record breaking open swimmer based in Windermere, also thinks swimmers are at risk from boats but believes both can be to blame.
He tells the story of a man in a wet suit complaining of a near miss.
"He was out in the middle of the lake, all by himself, and what he called a clown went past at 20mph and didn't see him.
"Now here's a guy in a black wet suit, the lake is grey and, in areas, black. Of course he wouldn't see him. Even if I was swimming next to him I wouldn't see him because he blends in.
"And he thought that the speed boat driver was the clown - the pair of them were clowns in my opinion."
Mr Noblett puts the increasing popularity of open water swimming down to its inclusion in the Olympics and David Walliams' swims of the Channel and the River Thames.
But he believes many new to the sport on Windermere are not aware of the risks from the cold and other lake users.
He stresses swimmers should always be accompanied by someone who knows the water and by a marker boat or canoe.
"Windermere is a very forbidding lake. Nothing's roped off, it's still a wild lake.
"It is a dark and dangerous place. There are ledges, there is a small current. You drown because you panic."