Tories and Labour target Carlisle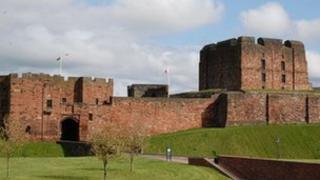 Both Labour and the Conservatives have pulled out the big guns for the Carlisle local elections.
One third of the seats are up for grabs in the city council, which has been under no overall control since 2003.
Ed Miliband showed up on his party's local election launch tour in a bid to boost the campaign, and David Cameron has also paid a high-profile visit.
Currently the council is run by a Conservative-led executive.
Mike Mitchelson, Conservative leader of the council, said: "The main issue is financial management and the council, like all the public sector, is facing hard times.
"We have a growth agenda aimed at stimulating economic activity to create jobs and economic viability for all our residents.
"And we also need to bring tourists to the area."
'No more money'
The Lib Dems pledged to work with social landlords and developers to secure more affordable housing, and take action to boost the city centre, including a new open forum to drive forwards the regeneration of Botchergate.
Labour councillor Joe Hendry said: "There is no more money. In fact there will be less money. But we are listening to the people of Carlisle. We shall prioritise our resources."
These include freezing council tax, and "driving forward economic growth with a plan for jobs, growth and homes".
The Green Party, fielding 11 candidates, said it aimed to oppose the current climate of austerity, invest in the local economy and regenerate the city.
UKIP, which is also putting forward 11 candidates, said it would reduce council tax and cut the pay of senior council officers.