Barrow £6.6m care home gets approval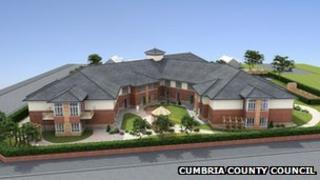 Plans have been approved for a multi-million pound care home in south Cumbria.
Offering 60 beds, the £6.6m residential facility in Barrow in Furness will replace four homes in the area.
It will be built on the site of the former George Basterfield House on Risedale Road. It closed in 2011.
Plans were approved by Cumbria County Council's Development Control and Regulation Committee, which met in Kendal.
The new building is being developed as part of a programme funded by Cumbria County Council to help adults continue to live in their own homes.
Lawrence Fisher, chairman of the committee, said: "Having these plans accepted is an important step for the future of care provision in Barrow.
"The plans showed the significant time and investment which have been invested and I'm delighted that we could approve them."
The new building will replace West Point House and George Basterfield House which have already closed.
Rock Lea and Bevan House will close once the new facility is fully operational in the summer of 2013.