Cumbria nuclear pylon route plan unveiled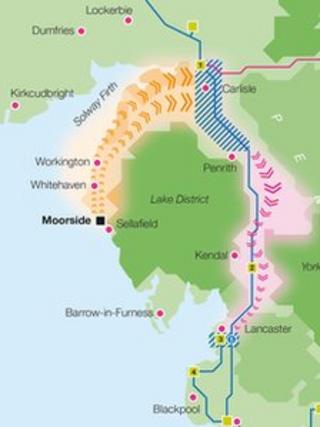 Plans showing possible routes of pylons and cabling for a nuclear facility in Cumbria have been revealed.
A new nuclear power station is planned to be built beside Sellafield by 2023.
The project will include a route of pylons or a series of underground cables running from Sellafield to Heysham, or through the Lake District National Park.
Details of the six options are available online for ten weeks to allow the public to provide feedback.
Comments received from the public will be used to help the National Grid identify which option or options are taken forward to the next stage of the development.
Peter Fendley, senior project manager at National Grid, said: "We would welcome receiving comments from individuals and local organisations on our preliminary findings, but it is important to stress that we will not be making decisions about the technology we'll be using to make connections at this stage in the process."
A more detailed local consultation will follow next year, with an application for development consent expected in 2015.
The project is part of a £22bn programme to connect new energy projects across the country.
Feedback on the website will run until 19 July.